Cedarburg High Schools students are very involved in the Cedarburg PAC, Inc. operation. They spend time learning about the inner workings of a performing arts center. They work in the box office meeting the ticketing needs of our audience and on the tech crew learning about the "behind the scenes" component of the performing arts. And, they participate in learning opportunities with our visiting artists.
Learning from Renowned Performing Artists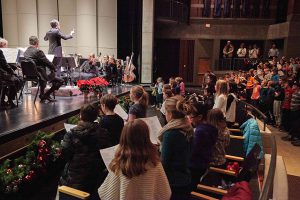 Cedarburg PAC, Inc. master classes and workshops bring artists and students together in unique learning and practice experiences. Artists display their talents and provide tips and techniques to help students hone theirs. Some artists have highlighted the budding talents of students by welcoming them on stage during their Visiting Artists Series performances. A dream come true for these students!
Some of our visiting artists have conducted Q&A sessions during open sound checks allowing students to observe how artists and their crews prepare for a performance and ask their many questions. This process can be very motivating for students. And, it's a wonderful way to get young people more involved with the arts.
Past Visiting Artist/Student Involvement
Cedarburg PAC, Inc. funded and presented a Milwaukee Symphony Orchestra student matinee for the holidays filling the theatre with young people from different schools and grade levels
Music students received tips on three-part harmony from award-winning folk-roots trio The Good Lovelies
Art design students from the local high school have partnered with the Cedarburg PAC to create posters promoting student tickets for Visiting Artists Series performances
Broadway singer/actor, Franc D'Ambrosio, conducted an open audition to choose two young people to sing with him on stage during his performance at the Cedarburg PAC
Choir students took the stage to sing with the renowned Osmond Brothers during their holiday performance
Famed singer-songwriter Livingston Taylor critiqued students' performances during his master class – and then later invited one lucky student back to perform on stage during his show
Music students learned about world music from trumpeter Doc Severinsen's band El Ritmo de la Vida
Wisconsin's favorite funnyman John McGivern conducted an Actor's Workshop for high school drama students
Learning How an Arts Venue Operates
Cedarburg High School students work closely with the Center's staff and committee members in a variety of areas including: event management, hospitality, merchandise sales, digital promotion, etc. There are also continuing opportunities for students to work in the box office and participate on the technical side of our productions.
These experiences give students the opportunity to experience every facet of the performing arts. This allows young people to understand and appreciate the arts. And, it helps students decide where their interests lie and what avenues they have for pursuing their performing arts related dreams in the future.